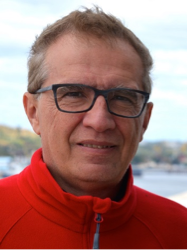 Giovanni de Micheli
EPFL, Switzerland
Design and optimization of Quantum Electronic Circuits
Abstract
The design of low-power high-performance computing systems will exploit emerging technologies where computation is achieved by combining optical waves and/or current pulses. In either setting, an abstraction of the technology leads us to fundamental logic gates based upon majority, threshold and comparison functions. Large-scale digital design requires then new algorithms for logic synthesis and optimization that leverage these models and exploit their properties. The talk will illustrate some high-risk, high-reward technologies and the corresponding new electronic design automation methods and tools.
Quantum electronic circuits where the logic information is processed and stored in single flux quanta promise efficient computation in a performance/power metric, and thus are of utmost interest as possible replacement or enhancement of CMOS. Design automation for quantum electronic logic families is still in its infancy, but important results have been achieved in terms of automatic balancing and fanout management.   This presentation will cover recent advancement in circuits and design automation for superconducting electronic circuits as well as address future developments in the field.
Biography
Giovanni De Micheli is Professor and Director of the Integrated Systems Laboratory at EPFL Lausanne, Switzerland. He is a Fellow of ACM, AAAS and IEEE, member of the Academia Europaea and Foreign Honorary Member of the American Academy of Arts and Sciences. Prof. De Micheli is the recipient of the 2020 IEEE/CEDA Richard Newton Technical Impact Award the 2019 ACM/SIGDA Pioneering Achievement Award , the 2016 EDAA Lifetime Achievement Award, among other honors.
If you wish to modify any information or update your photo, please contact the Web Chair at the following address:
arief.wicaksana[at]huawei.com