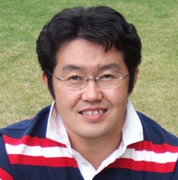 Koji Inoue
Kyushu University, Japan
My-IoT Project: How can we construct an IoT ecosystem?
Abstract
The contradiction between the diversity (required by users) and uniformity (required by providers) of IoT systems, called the "IoT gap," makes it challenging to spread IoT technologies. To solve such an essential issue, we have started a new research project that attempts to develop the "My-IoT design platform" on which users can easily design and operate their own IoT system. This talk introduces the detail of the My-IoT project and discusses how to construct an IoT ecosystem.
Biography
Koji Inoue received the B.E. and M.E. degrees in computer science from Kyushu Institute of Technology, Japan in 1994 and 1996, respectively. He received the Ph.D. degree in Department of Computer Science and Communication Engineering, Graduate School of Information Science and Electrical Engineering, Kyushu University, Japan in 2001. In 1999, he joined Halo LSI Design& Technology, Inc., NY, as a circuit designer. He is currently a professor of the Department of Advanced Information Technology, Kyushu University. His research interests include power-aware computing, high-performance computing, secure computer systems, 3D microprocessor architectures, multi/many-core architectures, nano-photonic computing, superconducting computing, and quantum computing.
If you wish to modify any information or update your photo, please contact the Web Chair at the following address:
arief.wicaksana[at]huawei.com